---
In Memoriam: Tony Bennett, 1925–2023
By

 

John McDonough

 
  I  
Jul. 21, 2023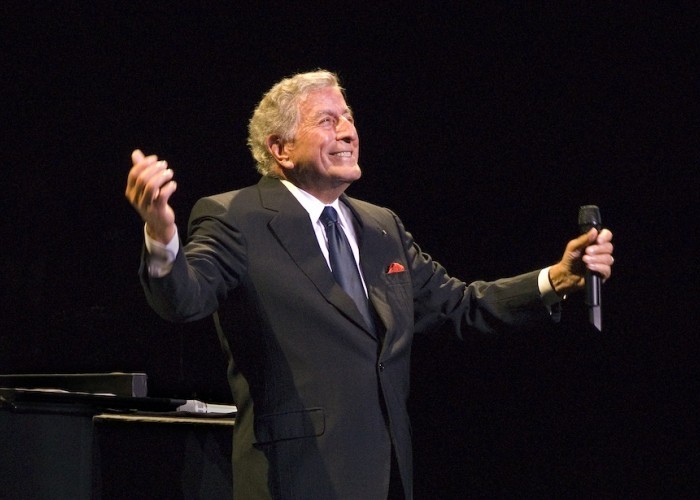 Bennett, perhaps, has the honor of the longest sustained career as a star performer in the annals of show business history, writes John McDonough.
(Photo: Dane Moon)
Tony Bennett, who ascended to the top of American popular music a year before Queen Elizabeth ascended to the throne in England 71 years ago, died July 21 in New York City. He was 96.
His publicist, Sylvia Weiner, announced his death.
Bennett's passing ends what is almost certainly the longest sustained career as a star performer in the annals of show business history.
The wonder of it all is that over that huge arc, Bennett managed to change so little. In his first extended DownBeat interview in June 1954, he seemed suspicious of his recent string of popular hits and charted his preferred future. "I'd like to make an album," he told Nat Hentoff, "where I go in and just blow. No special arrangements. A very relaxed album of standards away from the commercially stylized records we've been making." It would happen a number of times in different ways, none more elegantly than in his 1976 sessions with Bill Evans.
In a business where commerce dictates art and opportunism sustains survival, Bennett from the start planted himself like a sequoia in the soil of the American Popular Songbook and made himself a stubborn bulwark of tradition against the storms of fads, crazes, trends and trivia – all the things that drive success in his chosen trade. Like his royal counterpart in Buckingham Palace, he would become the eternal defender of the faith long after the rest of the world moved on. It was a repertoire he never aged out of, although by the time he passed 90 audiences might have chuckled at the irony of hearing him sing "as I approach the prime of my life" in the verse to "This Is All I Ask."
His sprang into the big time at age 25 in the summer of 1951, propelled by strength of the sudden success of "Because of You," which he had recorded for Columbia in April of that year. Network Radio and 78 rpm records were nearing the end of their reign as Bennett began his. Over the next seven decades, as he evolved from pop sensation to senior statesman of the American Song Book, he never seriously slipped from the top ranks of the most admired and respected singers in music. His celebrated recent partnerships with Lady Gaga, Diana Krall and others kept him a stadium act in the contemporary music scene, while his regular solo concerts at Radio City, Ravinia, Carnegie Hall and The Hollywood Bowl represented a lineage of living cultural memory that connected audiences to a distant and vastly different time in mid-20th century America. For a diminishing few it was nostalgia. For most it became a rare chance to glimpse a surviving symbol of continuity winding back into the final days of the great songwriters a decade before singers became their own writers. It helped that well into his 90s, Bennett continued to perform at the top of his form, even as he became ravaged by Alzheimer's Disease at the end. A fascinating CBS 60 Minutes piece documented his last show at Carnegie Hall, and his Alzheimer's, in 2022.
It also helped that from the beginning his classicism was leavened by direct jazz influences. "I always wanted a jazzman with me," he told Dom Cerulli in a May 1958 Down Beat interview. "I started with Fred Katz, and there was Chuck Wayne and Claude Thornhill. Chuck was the guy who really influenced me as to the guys playing good jazz." Later on there was never a time when Bennett was not in proximity to the finest players. His musical directors came straight of out the jazz world: Ralph Sharon, Torie Zito, John Bunch, and Lee Musiker. Ruby Braff, Harold Jones, and Gray Sargent were part of his working groups, and there were encounters with Count Basie, Herbie Hancock, Candito, Herbie Mann, Neal Hefti and Bill Charlap among many others. "For me," he told Cerulli, "having jazzmen with me means I never get stale."
It also helped bring a certain distance between himself and his music, which he interpreted in the manner of a musician rather than inhabit as an actor. His personal life had its struggles, but they remained essentially private, insufficiently lurid or glamorous to attract the press. So the many torch songs he sang never invited invasive inferences of autobiography or personal disclosure. This was the domain of Frank Sinatra, whom Bennett worshipped as a fan. Long after he became Sinatra's peer and such things were no longer necessary, Bennett's concerts were introduced by a recorded "message from Frank Sinatra," praising him as "my man." It was an endorsement he treasured.
Tony Bennett was born on August 3, 1926, in lower middle class Astoria, New York. After the early deaths of his mother and father, he was raised by his grandparents. His first influences, Al Jolson and Eddie Cantor, were of an old show business sensibility that reached back before vaudeville to the minstrel men of the 19th century. They were generations removed from Bennett, betrayed an intuitive faith in tradition. By the early '40s his taste moved to Frank Sinatra, Bing Crosby, Louis Armstrong and Jimmy Durante. Initially, he trained to be a commercial graphic artist. He attended the New York School of industrial Art and during his time in the army he studied painting at Heidelburg University in Germany. But by 16 he had decided that he wanted a career in music as a singer.
After the war he used the G.I. Bill to get into the American Theater Wing, where he learned the basics of bel canto vocal technique. By the end of the '40s, he was opening for Pearl Bailey when Bob Hope spotted him, took him on, and anglicized his name from Anthony Benedetto to Tony Bennett. In 1950, Mitch Miller, who was head to Columbia Records pop singles department, signed him, which set him up for his breakout in late 1951. After "Because of You," he scored with "Rags to Riches," Hank Williams' country classic, "Cold Cold Heart," and "Stranger in Paradise." Those were the records that cemented his place among the top singers of the '50s. His first DownBeat cover was October 8, 1952.
The appearance of the first wave of rock and roll in 1955-56 with Bill Haley and then Elvis Presley failed to disturb his place in popular music. But Mitch Miller frequently brought him material he didn't like. During his first period with Columbia, Bennett and Miller sparred in a lively creative tension. In 1957 "In the Middle of an Island" became a big hit. He disliked it from the beginning, and once it was behind him, it vanished from his working repertoire. It was symptomatic of a deeper problem, however, which was the decline of new song writing talent.
Yet, the signature song of his career was still ahead him. "I Left My Heart in San Francisco," had been written in 1954 and sat undiscovered for eight years before Bennett made his definitive version. It became so completely associated with him that when planning the duets albums 45 years later, producer Phil Ramone decided that it was the one song Bennett should not share with another singer. Instead, his duet partner became pianist Herbie Hancock and then, when that session was discarded, Bill Charlap. The '60s also handed Bennett further hits, including "The Shadow of You Smile," "I Wanna Be Around," "The Good Life," and "If I Ruled the World."
If Elvis Presley was not able to rock Bennett's boat in the '50s, the impact of the Beatles was not so easily disregarded. The English invasion and the larger shift toward the singer-writer changed the business models of the music business. Just as important, the arrival of Clive Davis as president of Columbia created new expectations of the talent roster. Bob Dylan and Simon & Garfunkel were slowly building young audiences. After the Monterey Pop Festival of 1967 brought Janis Joplin, Blood Sweat & Tears, Santana, Chicago and Pink Floyd to Columbia, the atmosphere inside the company became increasingly uncomfortable for Bennett. Finally in 1972, after 22 years, he left the label. After a brief period with Verve, Bennett found himself unaffiliated.
He started his own company, a kind of boutique operation called Improv Records which issued the 1976 sessions with Bill Evans. Though widely praised, Improv lacked the muscle to compete in an industry that was dominated by a handful of super powers. (The Improv recordings are now part of the Concord collective.) By the end of the '70s his career was at its lowest ebb, though he was still headlining in Los Vegas. This was compounded by simultaneous marital, I.R.S. and cocaine problems. Though still a famous brand, his options seemed few. He had tried television in the '50s, but never made it to the fall schedule. He had appeared as Hymie Kelly in the movie "The Oscar" in 1966. Both the film and Bennett's movie debut were initially ballyhooed as possible Oscar material. But he was uneasy in front of the camera, and the film was sleazy and ultimately unsuccessful. The Bennett magic refused to transpose from the recording studio and night club atmosphere to other media.
In 1979 his son Danny, who had been pursuing a minor career in rock, began to look at his father's situation in a rigorously strategic manner. He saw possibilities for the long term by building a new younger audience for him. But it would not happen overnight and required careful management. That would be his job. After he helped him clean up his finances and persuaded him to leave Las Vegas and return to New York, he began putting together a touring schedule of one-nighters focusing on the college concert circuit and theater dates in college towns. The days when Bennett could play night clubs like the Copa Cabana or the Chez Paree for two weeks at a time to small audiences of 4 or 500 were mostly over. Besides, that's not where the audiences that Danny Bennett needed would be found.
In 1986 Bennett returned to Columbia, which was now under new management and about to be acquired by the Sony Corporation. His first album, The Art of Excellence, was a proclamation of his intention to reestablish his recording career, but according to his standards, not the wishes of the "money men." With creative control in his hands, he would make the kind of albums he had described to Nat Hentoff in DownBeat four decades before. There would be no compromises or concessions, no efforts cater to top 40 repertoire. As a throwback, Bennett began to acquire a reputation for integrity that was negotiable with the young. With Ralph Sharon back as musical director, Bennett's first Columbia album would put him back on the charts for the first time in nearly 20 years.
His son's strategy carried Bennett to younger audiences through the hipper late night TV shows (Letterman and Conan O'Brian), in addition to the bourgeoning MTV music pipeline. A cartoon version of Bennett became one of the first cultural references to be written into The Simpsons. Professionally, he was seen in the company of Elvis Costello, k.d. lang, even as a steady stream of Columbia albums devoted themselves to the music of Frank Sinatra, Fred Astaire, Duke Ellington, Jerome Kern and most recently George Gershwin. The message was, when something is good it's always in style. By the turn of the century, he was said to be worth $20 million, probably a conservative number.
Bennett is survived by his wife, Susan Crow, daughters Antonia and Joanna, and sons, Daegal and D'Andrea (a.k.a. Danny). DB