Find more videos like this on The Global Jazz Network

Johnson has written and performs Original Lyrics to over 30 Charlie Parker compositions. Including one of Bird's most celebrated recordings "MY LITTLE SUEDE SHOES"
Music: Cal Massey
Solo: Charlie Parker
Lyrics: George V Johnson Jr (c) 1979
I saw a pretty little girl today. She only lived a half a block away. Although we didn't get the chance to speak. I knew one day that we would finally meet. I used to see her on the busy streets, while walking smoothly with a steady beat. All the fellows that she passed would speak, cause she looked good to everyone she meet. I tried to tell her that I love the way she looked but, I could never get the chance. I only wish that we could someday be together and maybe start a sweet romance. I saw that pretty little girl today, she only lived a half a block away. Now if we only get chance to speak, I'd wipe that girl right from off her feet.....solo...It was a beautiful day in September! and I was busy gazing out my window..and all of a sudden as I looked up to the corner I could see her walking down the street. My she was pretty.....
Eddje Jefferson & George V Johnson Jr. together in 1977 @ Left Bank Jazz Society, Baltimore MD - passing the torch !

Keeping the dream alive!

NEXT IN LINE!
George V. Johnson, Jr. | Your Majesty Records
By Don Williamson
Just when you wonder what will happen to the art of vocalese, other than its sustenance by a few artists like Kurt Elling, George V. Johnson, Jr. sneaks onto the scene with his own self-produced CD that begs for attention. And deservedly so.
A student of legendary vocalese singer Eddie Jefferson, Johnson for whatever reason has waited twenty-something years to come out of his cocoon and spread his wings. A resident of south Jersey, and no doubt known as a singer only within the East Coast environs, Johnson has taken the initiative to record, produce and market his own CD, "Next In Line," proving the value of the Internet to spread the message about deserving artists.
Eddie Jefferson himself kicks off "Next In Line" with an 18-second sound bite that introduces Johnson during a night of singing in 1977 as Johnson was to take over the thread of vocalese thought and melody Jefferson established. Now, Johnson figuratively is picking up that thread again with a CD mostly of jazz standards that Johnson put to words. Fittingly, Johnson pays tribute to the Eddie Jefferson style, right down to employing a swinging alto saxophonist, Arnold Sterling, who fills, and in some respects enlarges, the Richie Cole role.
Perhaps most impressive is Johnson's own song about the good-natured ambition and competitiveness of performance on "Opening Night," repeating the initials "CBS" for emphasis upon the grandness of his aspirations. "Freedom Jazz Dance" involves?dance. Tina Prat taps out the rhythm of the tune after Johnson's group sets up the groove to the words of Eddie Jefferson.
"Next In Line" deserves more than a listen. It deserves attention. And it deserves a follow-up album, hopefully on a commercial label.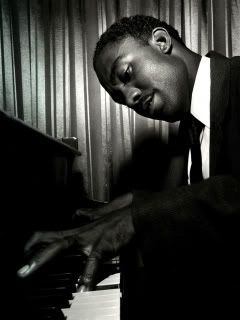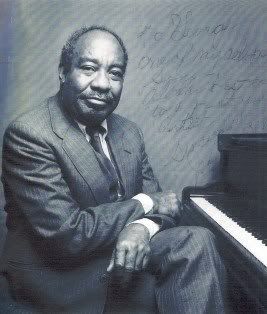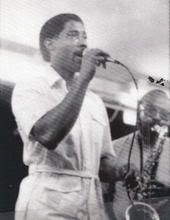 GVJ & Jazz Legend James Moody "Moody Mood For Love'
THE ONE AND ONLY GEORGE V JOHNSON JR
Throughout the 80's George was mentored and performed regularly with "James Moody & Lou Donaldson". Two of the greatest saxophonist in the history of Jazz. His close association with Moody led to dozens of Local & National Live Radio and Television Broadcasts, Carnegie Hall Kool Jazz Festivals, Town Hall Tribute to Charlie Parker w/Strings arranged by Barry Harris, South Seaport Jazz Festival, clubs throughout NYC including: Sweet Basil, Bottom Line, 7th Avenue South, Village Vanguard, Village Gate, Grand reopening of Live @ the Apollo' Apollo Theatre, yearly Grant's Tomb, Jazz Mobile concerts throuhout NYC NJ, Phila. Wash DC., P.A., Indiana, Ohio, Mt. Vernon NY, Binghamton NY, Springfield Ma., & Hartford Ct and much more...
Most recently Johnson completed more than 40 of Hank Mobley's Blue Note classics. A feat unmatched even by his peers in this great History of Jazz. Including: Hank's Symphony, Soul Station, Dig Dis, No Room For Squares, East of The Village, This I Dig of You, Take Your Pick, Three Way Split, Split Feelings, Up A Step, Work Out, The Baptist Beat, My Groove Your Move, Soft Impressions, Hank's Waltz, Chain Reaction, Roll Call, Syrup & Biscuits, Snappin Out, Comin' Back, The Feelings Good, Uh Huh, Up Over and Out, Looking East, Cute N' Pretty, Third Time Around, Bossa For Baby, Ballin, Madeline, No More Goodbyes, The Break Through, Hank's Other Bag, Infra Rae, Straight NoFilter . . . and more.
AVAILABLE FOR PRODUCTION
A NEW JAZZICAL
"DOWN BY THE RIVER - EAST OF THE RIVER"
Featuring the music of Hank Mobley. Written by George V Johnson Jr & Arrangements by Don Sickler - (5 time Grammy Award winning arranger and producer) Available for production. Theatre / TV / Film
AVAILABLE FOR: National and International tours, clubs, concerts, festivals, weddings, private parties, cruise ships, pool parties, workshops, recordings, lyrics for record dates, commercials, jingles, voice overs, television, film, live radio broadcast, theatre, motion pictures etc. (Quartet, Quintet, Sexet, Big Band or Solo)
USA, Canada, South America, Africa, Austrailia, Europe, Asia
Give us a call today. Waiting to hear from you!
Click HE'S NEXT IN LINE
EXPLORE THE ART OF JAZZ VOCALESE - Singing and writing lyrics to improvised solo's (Charlie Parker, John Coltrane, Miles Davis, Dizzy Gilespie, James Moody, Hank Mobley, Barry Harris, Thelonious Monk, Sonny Rollins, Herbie Hancock, Jackie McLean, Dexter Gordon, David 'Fathead' Newman, etc) Bring the Art of Vocalese to your organization, institution, school, university, club, festival. It's fun, educational, intense and historical.
JAZZ VOCALESE WORKSHOP INSTRUCTIONS INCLUDES:
. History of Jazz Vocalese
. The Eddie Jefferson School of Bop
. The Art of Writing & Singing Good Lyrics
. Demonstration, Vocal Drills
. Importance of Diction, Rhythm, Presentation & Intonation
. Class Participation / Breakdown of Classic Solo's
. Class Reciting, Speaking, Singing & Writing original lyrics
. Repetition & Practice w/End of session performance
WORKSHOPS (SPECIAL GROUP RATES)
. 1 to 10 week programs or 1-5 day workshops
. Elementary / Jr., High / High Schools
. Colleges / Universities
. Master Classes / Seminars / Private Instructions / Artist in Residence
Comments are welcome...read more about George V Johnson Jr @ www.myspace.com/georgevjohnsonjr