Everyone is born with a gift from God. Some people discover their gift, and use it to a positive end. Some discover their gift, but squander it. And others, for one reason or another, never discover their gift. I discovered mine very early in life. I was blessed with the gift of music, and worked to make the most of it.
All creative people experience the feeling of something "coming through them." They're mediums. But I'm not one who needs a couple of months in the mountains to create. It doesn't happen for me like that. It happens on an almost daily basis. I see and hear things every day that trigger something inside me that leads me to think, "That might make a great song." Sometimes, when I'm driving, a melody will just come to me. There's no formula. There's no process, like "the words come first, and the melody comes second." There's none of that. Whatever comes first, comes first, man. I don't question it.
I've been making music professionally since the 1950s, and sometimes, I'll have a block on a certain song. For example, "Cruisin'" took me five years to write. The song was inspired by my guitar player, Marv Tarplin, who has passed on now. Marv put a riff on tape for me that was so sensual and sexy, and I just loved it. So, I made a tape-loop and let that riff put me to sleep every night. Before long, I wrote some words for it, but thought they weren't worthy of Marv's music.
After about four years, I came up with the first lines of a chorus. I liked the fact that the people in the song could fly, so I wrote, "You're gonna fly away/glad you're goin' my way." After that, I wrote about 20 different "I love it" lines to try to fill out the song. Then, all of a sudden, there was nothing. By that time, I had moved to Los Angeles and, one day in December, I was driving down Sunset Boulevard with my car-top down, thinking, "Man, this is incredible," because I'm from Michigan, where the winters are brutal. As I was driving, I started thinking, "I'm cruisin' down Sunset…," and that was it, man. I turned my car around and headed back home, put the tape on, and finished the song. "I love it when we're cruisin' together."
About a year-and-a-half before Motown took flight, I was in a group called "The Matadors." Jackie Wilson was my number-one singing idol when I was growing up and, like me, he was from Detroit. Jackie's managers were in Detroit, too, always scouting talent, and we got the opportunity to audition for them. But rather than doing covers of currently popular songs, we sang five that I had written, thinking that might impress them and give us an advantage.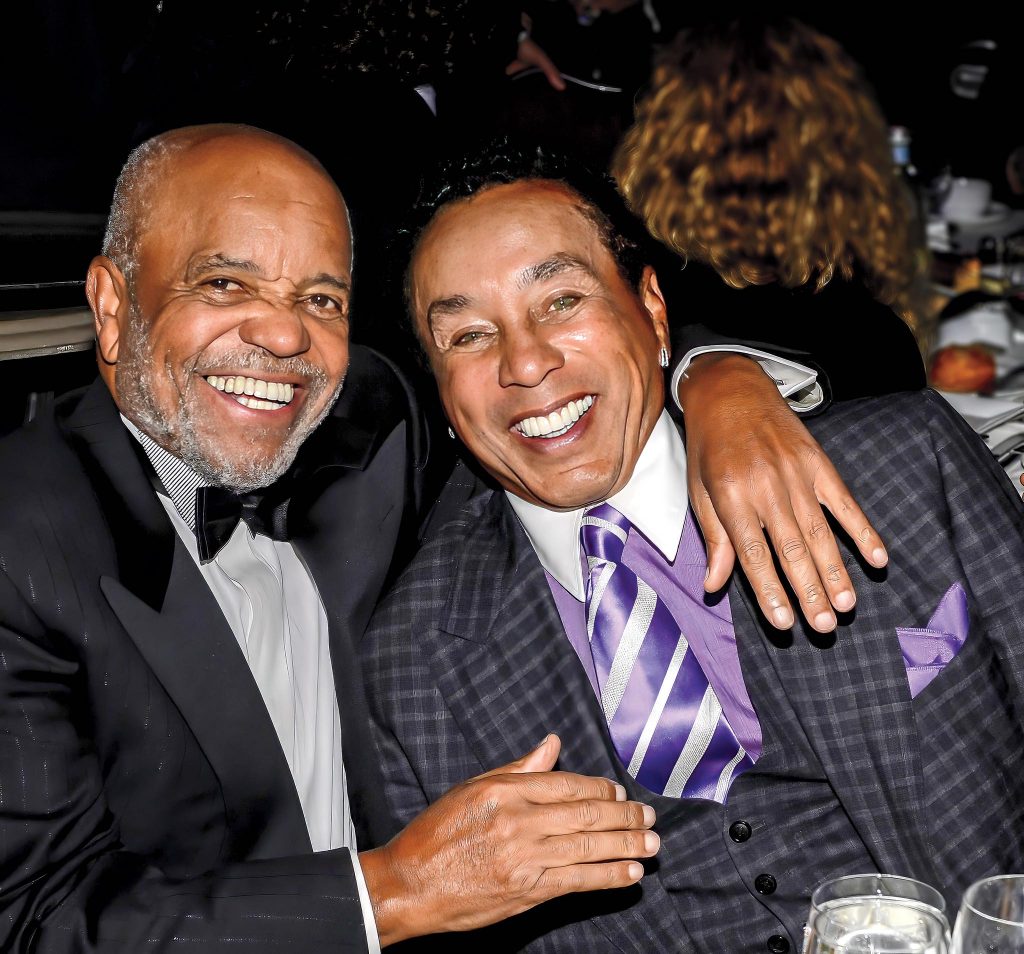 https://pittsburghquarterly.com/wp-content/uploads/2023/09/b2994337...
Smokey Robinson, Singer-Songwriter
– Black Music & Entertainment Walk of Fame (2022)
– Library of Congress Gershwin Prize (2016)
– Rhythm & Blues Hall of Fame inductee (2016)
– BET Lifetime Achievement Award (2015)
– Rock and Roll Hall of Fame inductee, with The Miracles (2012)
– Society of Singers Lifetime Achievement Award (2011)
– Hollywood Walk of Fame, with The Miracles (2009)
– Kennedy Center honoree (2006)
– National Medal of Arts (1993)
– Soul Train Music Awards, Heritage Award (1991)
– Songwriter's Hall of Fame (1989)
– "Just to See Her," Grammy Award, Best Male R&B Vocal Performance (1988)
– Rock and Roll Hall of Fame, as a solo artist (1987)
– Hollywood Walk of Fame, as a solo artist (1983)
During the audition, I noticed a young man sitting off in the corner, just listening. I was 16 years old. He looked to be somewhere in his mid-20s. I thought he was waiting there to audition, too. So, we sang our five originals and, when we finished, Jackie's manager told us that he didn't like us at all, and that we would never make it, especially because we had a girl in the group. (One of our members, Sonny Rogers, left to join the Army, but had a sister named Claudette who sang well. She went with us to the audition.)

Well, that young man sitting off in the corner soon approached us. It turned out that he liked my songs, and asked if I had any more. Back then, I had a loose-leaf notebook containing more than 100 pages of lyrics that I had been writing since I was in elementary school. Intrigued, the young man reviewed them and soon began to teach me how to write songs. He said that a song should be a short story, where the beginning, middle, and end are tied together. That young man was Berry Gordy Jr. And that day was a "God-day" for me. It was purely good fortune that Berry was present for our audition with Jackie's people. My professional music career really began on that day.

People always say that Berry Gordy was very lucky to have so many talented people in Detroit at the same time — and he did. But I think that, ratio-wise, every city has a lot of talented people. They just have to be discovered. And, in Detroit, in the 1960s and '70s, they were. But we certainly were lucky at that time and in that place to have Berry. He's a rare dude who had the wherewithal to make something amazing happen. He wasn't a corporate guy who decided to go into the record business for fun. He was truly a music man, who started out as a songwriter and record producer. Those were his first loves. But, in those long-ago days, nobody was getting paid much to make music, especially if you were black. That's just the way it was, and Berry got tired of it. So, he borrowed $800 from his family and started what, in time, became the "Motown Record Corporation." The rest is history.

I was born in Detroit in 1940, to two great parents who were complete opposites. When I look back, man, I don't know how they hooked up. My parents couldn't be in the same room for five minutes without arguing over something. They were like night and day and, when I was 2 years old, they divorced. But for years after that, my dad would tell me, "Boy," which is what he always called me, "your mama may be crazy, but she loves you. If I'm not here, for some reason, I want you to look out for her because she's a great woman." Curiously, my mother would often tell me, "Junior, your daddy's crazy, but you are his favorite person, so you've got to love him, always." She also said, "One day, I'm not going to be here, and you're going to have to take care of him. Make sure you do, because your dad loves you." Now, I don't know how or if my mother sensed that she wouldn't be there for me in the long term, but, sadly, she died when I was 10, at age 43, from an aneurysm.

After my mom passed, my dad came back to live with us. I had two older sisters: one was 14 when I was born; the other was 17. The oldest had six kids when she moved back and, when all was said and done, she had 10. So, my nieces and nephews were more like brothers and sisters to me, and my oldest sister and her husband raised us.

When I was 3 or 4 years old, if you asked me what I wanted to be when I grew up, I would have told you, "A cowboy." My uncle, Claude Robinson used to take me to see cowboy movies when I was little, because I loved cowboys, man, especially the ones who sang. During that time, Uncle Claude decided that, since I loved cowboys so much, I should have a proper cowboy name. So, instead of calling me by my given name, which was William (Robinson, Jr.), he started calling me "Smokey Joe," and the name stuck. I dropped the "Joe" when I got older, and that's when I became "Smokey Robinson."
Pure Smokey
"Tears of a Clown"
"Shop Around"
"Ooo Baby Baby"
"I Second that Emotion"
"My Guy"
"Going to a Go-Go"
"Get Ready"
"My Girl"
"Tracks of My Tears"
"The Way You Do the Things You Do"
"You've Really Got a Hold on Me"
"Just to See Her"
"Cruisin'"
"One Heartbeat"
"Being with You"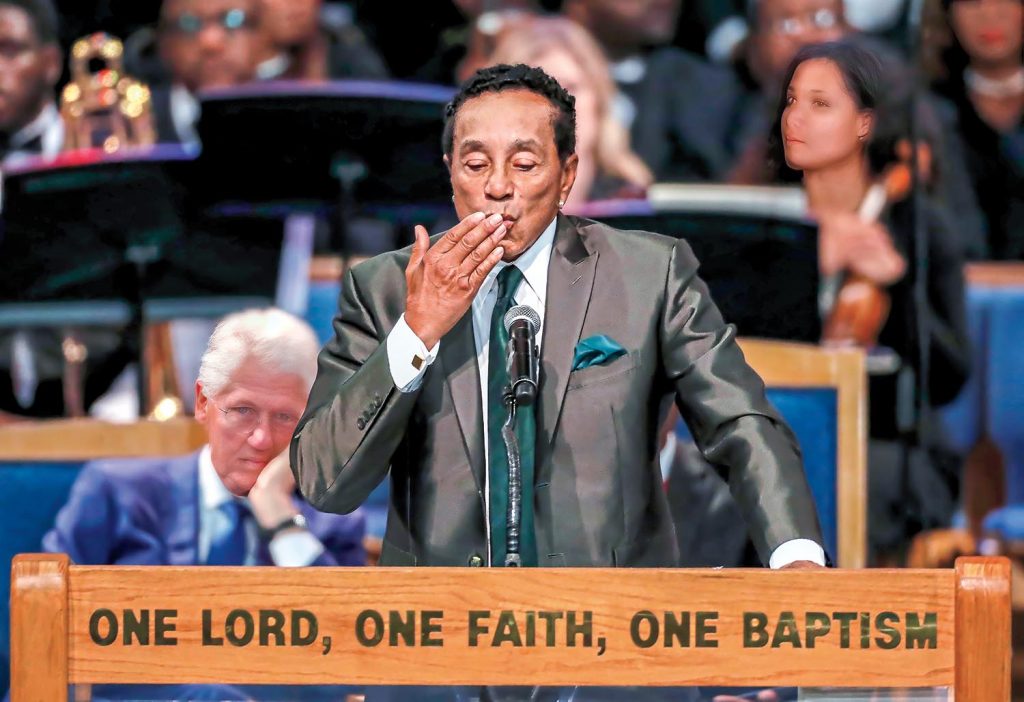 https://pittsburghquarterly.com/wp-content/uploads/2023/09/fc16e684...
As a kid, our house was a gathering place. There were 11 children in my family, of all ages, and our friends would come over every day, when they weren't in juvenile detention, or jail. Sometimes, they'd come to me and say, "Hey, man, we're going to rob the gas station tonight." And I'd say, "Forget it. I'm not going to do that with you. Are you crazy?" But even if they decided to pass on a "big score" like the gas station job, they'd come back to my house the next day with $10 apiece from beating somebody up and robbing them.

When I was young, some of my friends ended up in "juvie." When I got a little older, some were in jail. And, sometimes, one or two of them would wind up dead, after getting shot by the police while trying to rob somebody of $20. So, I grew up with some young gangsters, man, and although I didn't always roll with them, we still loved each other. I didn't have to do something wrong for them to care about me.

By the time I got to be about 9 or 10, if you asked me what I wanted to be, I would have told you, "A singer." I always loved to sing. And when we finally got a TV in our house, I would watch every musical show that came on. Those were the days of "The Rat Pack" — Frank Sinatra, Dean Martin and Sammy Davis, Jr. I saw them all on "The Ed Sullivan Show." By then, they had been doing their act for 25 years, and I would look at them and say, "How could someone manage to do something so great for so long?" It seemed impossible.

When it came to music, I didn't find it; it found me. In my home, growing up, I heard music of many kinds. On some days, my mother would play The Violinaires, The Five Blind Boys and The Ward Singers — all of those Gospel groups. On others, she would play Bach, Beethoven, Chopin and Rachmaninoff. My younger sister who, remember, was 14 years older than me, listened to Dizzy Gillespie, Count Basie, Duke Ellington, Frank Sinatra, Patti Page and Sarah Vaughan. But while I loved Sarah Vaughan's beautiful voice, I was particularly fond of artists like Muddy Waters, B.B. King, John Lee Hooker, Little Walter, and Little Esther. So, musically, I got the total picture, man. And my world of music kept getting bigger and bigger.

When I was 11, me and another guy from our neighborhood, named Ronnie White, formed a group called "The Five Chimes" and started singing at school functions, house parties, and at the local recreation center. Hell, we'd play anywhere if we could find girls there! We also engaged in what were called "battles of the bands." When we first met "The Temptations" in competition, they were called "The Distance." But the only group we had to worry about at the time were "The Four Aims" (who later became "The Four Tops"). If they showed up, the best any other group could hope for was second place.

In time, we decided as a group to change our name from "The Five Chimes" to "The Matadors," because we thought that name sounded more exotic. But while we continued to sing at community functions, we chose to set our sights a bit higher. In Detroit, at that time, there was a TV program called "Ed McKenzie's Amateur Hour," which came on every Saturday. So, we auditioned for Ed, appeared on his show — and won the prize for top vocal group! Man, we thought we were the hottest musical thing in the world after that.

I graduated from high school in June of 1958, but chose not to start college until January of '59. I was working for Western Union at the time, delivering telegrams by bicycle, and wanted to save enough money to buy new clothes and the books I needed for school. But in December of that year, with help from Berry Gordy, we recorded "Got a Job," an answer to the song "Get a Job," by "The Silhouettes."

So, I'm in college, man, listening to music on a transistor radio, and hoping that our song would be played. The record came out in February, on my birthday, and I was sitting in class when, lo and behold, "Got a Job" came on, and I hit the ceiling, man! I jumped up from my seat, and the professor asked, "Mr. Robinson, where are you going?" Saying nothing, I ran out of the classroom and into the hallway to a phone booth. I called Claudette and told her to contact everybody we knew and tell them that our record was being played on the radio.

When I got home, I had to tell this news to my dad, whose dream it was for me to go to college. So, I went to him, while he was watching TV, and asked, "How are you today, dad?" "I'm fine," he said. "How was work?" "It was fine, Boy." Then I asked, sheepishly, "How 'bout them Dodgers?" and he replied, "Boy, what do you want?" Suddenly, I blurted out: "I want to quit school to make music." My dad turned slowly and asked, "What did you say?" So, I repeated, "I want to quit school to make music." And, to my amazement, he said, "OK. You're only 17. You've got time to fail. And if you do, you can always go back to school."

In those days, the goal for all of the groups in Detroit was to make a record, and we'd done that. We weren't thinking about getting paid, man. We just wanted to be on the radio, and we got a taste of that, too. But to become truly professional recording artists, we felt that we needed a name-change again, one that was fit for a group with a female member. So, we each put some names in a hat and asked Claudette to reach in and choose one. She picked "The Miracles" (which was one of my suggestions), and there you have it: Bobby Rogers, Ronnie White, Pete Moore, Claudette, and me.

When I was just 19, Claudette and I got married, and were soon trying to have babies. But during the early years of our marriage, we had seven miscarriages, man. As a result, my older son, Berry, was born through a surrogate mother. (My other son, Trey, was born many years later, the product of another relationship.) Later, the doctor who helped us find the surrogate built a brace for Claudette to help her carry a new pregnancy to term. When it was time, they removed it and my daughter, Tamla, was born.

In the mid-1960s, Berry Gordy made me vice president of Motown, so I started going to the office every day to work with him. I also recorded with The Miracles, and we produced a series of hits for the label. Our second single, "Shop Around," entered the Billboard "Hot 100" in December of 1960, and peaked at number two. Then, at a party, sometime in 1967, Stevie Wonder gave me a tape of a song he was working on with Henry Cosby. He said, "Hey, Smoke, we got a killer track, man, but I can't think of words to go with it. Why don't you listen to it and see what you can come up with?" I took the tape, of course, and the first thing I heard on it was what sounded like a calliope. So, I thought, "Am I going to have to write something about the circus?" I'm from the city, man, and I didn't want to write about animals, trapeze artists, or anything like that. But what could I write about the circus that would touch the heart?

As I considered my options, I remembered that, in elementary school, one of our teachers told us the story of "Pagliacci," the Italian circus clown who made everybody happy. People came to see Pagliacci and they loved him. But after his performances, he would return to his tent and cry because he never received the kind of affection from a woman that he received from the adoring crowds. So, I decided, "I'm going to write about Pagliacci. I'll just personalize it." I did that, and we placed the song, "Tears of a Clown," on an album called "Make It Happen." But by 1969, weary from the grind of the music business, I told the group, "I'm going to retire" — and they laughed at me, saying, "OK, baby, that's cool. We'll talk to you about it later." We had been together since childhood, and they knew all too well how much I loved writing and performing music. But I truly wanted to take an extended break to help raise my kids. I wanted to know them, and I wanted them to know me.

In 1970, however, a young lady who worked for Motown in England started playing our album in the office. When "Tears of a Clown" came on, she called John Marshall, a Motown executive in Britain, who was looking for a follow-up to a re-release of our single, "Tracks of My Tears." She said, "John, this is a hit." He listened to the track and said, "You're right." So, they released "Tears of a Clown" as a single in the U.K., and it went to number one, the biggest hit we ever had there. Then it snowballed all over Europe. At the time, I had another single ready for release in the U.S., but I told Berry, "No, man. We have to put out 'Tears of a Clown.' " He agreed, and the record went to number one in Billboard in December.

In those days, we were doing everything a group could do. We had been all over the world. But when "Tears of a Clown" was released, our career skyrocketed. So, the guys came to me and said, "You definitely are not retiring now." I said, "OK. I'm going to go for another year or so," which I did. But I also said, "You have to look for somebody to replace me, because I'm not going to do this forever." Luckily, they found a guy named Bill Griffin, from Baltimore, who traveled with us for about six months, to watch the show every night. Then, with Bill in place, in 1972, I retired, moved to Los Angeles, and went back to the office at Motown.

Sometimes, I would make deals with publishers and, at first, it was fun. We were set up to break new talent, and I really loved that because I'd seen new talent all over the country while touring with The Miracles. But when I made that move to L.A., Berry said, "Smokey, you're my best friend, so I'm going to change your office function. You are now going to do financial work. You're going to sign all the payroll checks." But, after about two-and-a-half years of that, I was miserable. I didn't tell Claudette because I didn't want her to think that I was unhappy being around for the kids. And I didn't tell Berry because I didn't want him to think that I'd let him down. I didn't tell anybody, man. But inwardly, I was suffering.

One day, Berry came to my office, and said, "Hey, man. Will you do something for me?" I'm thinking, he's going to tell me something corporate, you know? So, I said, "What do you need?" He said, "Sit down for a second. I want you to do something." I said, "What?" He said, "I want you to get the hell out of here." I said, "What did you say to me, man?" He said, "You heard me." I said, "What are you talking about? You don't think I'm doing my job?" He said, "No, not that, man. I see you come in here every day, and you're miserable. And when I see that you're miserable, it makes me miserable, and I don't want to feel that way. So, I want you to get the hell out of here, put a band together, go into the studio, and make a record."

Now, I always considered myself to be a "quiet singer." But as I was being reborn as a solo artist, I was determined to take the world by storm. Then, I thought to myself, "Hmm … 'Quiet Storm.' That's a great song title," and I started to write a song around it. My younger sister had become a lyricist, so I took it to her, saying, "The theme is 'Quiet Storm,' and here's the beginning of the song." Soon, she finished it, and we produced an album called "A Quiet Storm," which was released in 1975. In time, the term "Quiet Storm" actually became a radio format. I couldn't believe it, man. There were "Quiet Storm" radio stations all over the country!

When it first started, Motown was local, just in Detroit, Flint, and Ann Arbor. It didn't really touch Dearborn, Grosse Pointe, Bloomfield Hills, and the other suburbs of Detroit. In those days, if you were black and were caught in one of those suburbs, you better have had something on you that said you work for somebody there because, if the police got ahold of you, they would either whoop your ass, or take you to jail. But soon, we started receiving letters from the white kids out there, saying, "We love your music, but our parents don't know we have your records. If they did, they might make us throw them away." One regret I have is that we didn't save those letters. But we were young, and thought, "It's great that white kids are loving our music." Then, a year or so later, we started getting letters from their parents. "We found out that our kids were listening to your music, so we listened to it to see why — and we love your music, too!"

When I think about those times, man, I think about Sammy Davis Jr., who I came to know very well. Sammy used to tell me war stories about being black in a white man's world. The reason he loved Frank Sinatra so much was because when Sammy, his dad and his uncle — "The Will Mastin Trio" — first started playing Las Vegas, they had to do three shows a night and, in between, they had to return to the black side of town until the start of the next show, only to come back to the casino, where they weren't allowed to stay, to play. They couldn't eat there. They couldn't walk through the lobby. They had to come in through the back door. But one day, Sammy was talking with Sinatra, who was "the man" in Las Vegas. And, after hearing Sammy's story, Frank went to the powers-that-be and said, "If you're going to treat people like that, we're not going to play here anymore." And with that, black artists could finally stay at the white-side hotels in Vegas.

When Claudette and I moved to Los Angeles in the early '70s, I was finally retired from touring and smoking a lot of "weed." Naturally, she was concerned and had heard that "The Beatles" had stopped doing drugs after they met with the Maharishi Mahesh Yogi. They talked about how clean their lives had become from doing Transcendental Meditation (TM), so Claudette suggested that I try it. Well, I went over to the TM center and, after a while, discovered yoga. I also discovered that I got the same benefit from just stretching my body and relaxing as I did from practicing TM, so I dropped the meditation. Now, at 83, I still do yoga, usually in the mornings, to get me started.

I don't ever want to be "old," man. As long as I live, I want to be mobile and as vibrant as possible — physically, mentally, and emotionally. I think we are indoctrinated to feel old. We live in societies, especially in the United States, where being young is the thing. We promote everything about youth, and direct everything toward that. Fortunately, we also live in a day and age when you can take care of yourself better than ever before. Think of all the medical advances that have been made to help us stay and feel younger, longer. Nowadays, we've got a better chance than our parents did of living a long, good and healthy life.

Claudette and I divorced in 1986, and I married my wife, Frances, in 2002. She was from Pittsburgh, but I met her in Los Angeles. We've known each other for more than 30 years now but, for a long time, we were just two people among a group of friends who hung out and celebrated holidays, birthdays, and so on, together.

For years, Frances and I often talked on the phone, but I wasn't thinking about being romantic with her. I'm 12 years older, but we share the same birthday, February 19th. Then, one year, all of our friends got together and said, "We're going to take you both out for your birthday," to which we said, "Cool." So, we went to a restaurant in L.A. called "Crustacean," and one of the items on the menu was coconut shrimp, which was something new to me, and it turned out that I loved it. Frances loved it, too. A week or so later, as I was getting ready to travel somewhere, Frances and I were on the phone laughing and talking about our birthday party, when I said, "Hey, let's go get some coconut shrimp." "Sure," she said. That was the beginning for us, and I tell her all the time, "You do realize that I married you because of coconut shrimp."

Given that Frances is from Pittsburgh, I thought we might as well get a house here. By trade, she is an interior designer — one of the best I've ever seen — and she's done a great job with our homes in L.A., Las Vegas and Pittsburgh. I love it here. It's one of the only cities I know that's still progressing.

At this point in my life, I'm more excited about music than ever, because of the fact that I'm still writing, singing and performing — and still loving it. Of course, I continue to sing in concert some "have-to" songs, like "Ooo Baby Baby," "Cruisin," and "Tracks of My Tears." If I don't sing them, I'm afraid that people might throw stuff at me. I've sung those songs so many times but, don't ask me why or how, every night they feel new to me. People in the audience can sing those songs on their own, because they know them so well. And from the stage, I see people, sitting with 3- or 4-year-olds on their laps, and realize that I probably saw some of those same people 40 or 50 years ago, when they were sitting with their parents.

Music is the international language, man, and it's not bound by time or place. My "international anthem" as a songwriter is "My Girl." We perform all over the world and, sometimes, we go to places where 60-to-70% of the people in the audience don't speak English. But as soon as they hear those opening notes, they know what's coming.

As for Motown, there will never be anything like that again. It was a once-in-a-lifetime musical phenomenon. To have so many people assembled in one city at the same time — wonderful singers, musicians, writers and producers — making all those hit records, it was a blessing from the very first day.