SOJP presents "A Tribute to Rashied Ali"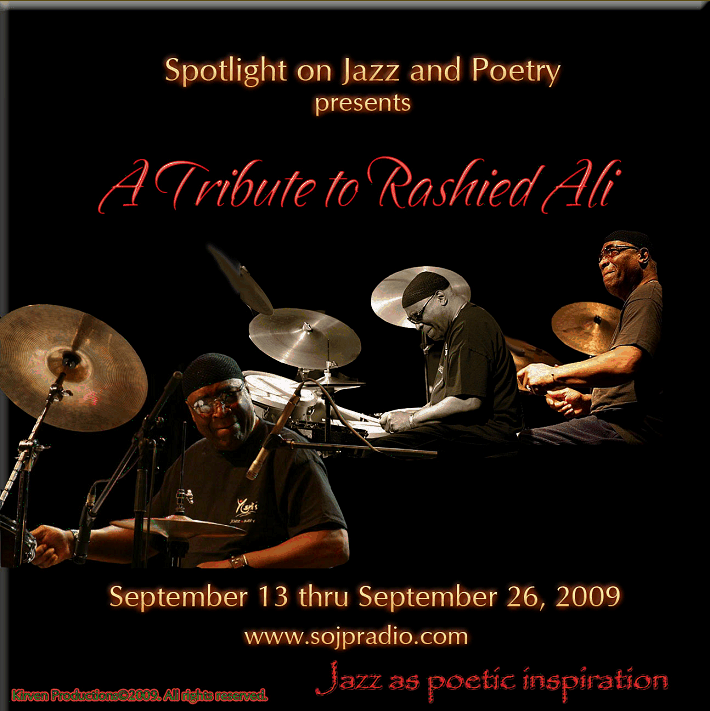 Rashied Ali, the free jazz drummer whose asymmetrical and impressionistic drumming became the shifting backbeat of free jazz, crossed over on August 13, 2009. He was 76.

Ali will best be remembered as John Coltrane's drummer during the crucial late phases of his career when he all but abandoned traditional jazz forms for a freer, heavily improvised style that reflected his religious ambitions. Beginning in 1965, when Coltrane invited an undistinguished Ali to join him on the bandstand of the Village Vanguard, until 1967, when Coltrane recorded his final session, Ali provided the shifting, dialogic drumscape that fractured rhythm just as Coltrane fractured melody. Far from keeping time for his bands, Ali's drumming became its own improvisatory force, another shade in the tonal palate. Along with Sunny Murray, the great drummer for Albert Ayler's quartet, Ali defined the sound of free jazz drumming.

At SOJP, we've got it all covered

JAZZ AS POETIC INSPIRATION!






LADIES and GENTLEMEN, One of the ways that we at SOJPradio.com know how we're doing with the artistry that we bring to you, is to hear directly from you, our loyal listeners.

Please stop by the SOJP guestbook and tell us how we're doing. If you have any requests for artists that you haven't heard featured or if you yourself would like to be a guest of the show, please e-mail us at bigtrigger@sojpradio.com

WE'LL BE GLAD TO HEAR FROM YOU!


Remember, Spotlight on Jazz and Poetry is available "On Demand". 24 hours a day and 7 days a week -- anywhere you have an internet connection. New shows are aired on Sunday and run all week. Tune into Spotlight on Jazz and Poetry at www.sojpradio.com . If you've got comments or suggestions regarding a particular show, drop us a line at bigtrigger@sojpradio.com.