---
Alice Coltrane: Hall of Fame
By

 

Suzanne Lorge

 
  I  
Jul. 27, 2023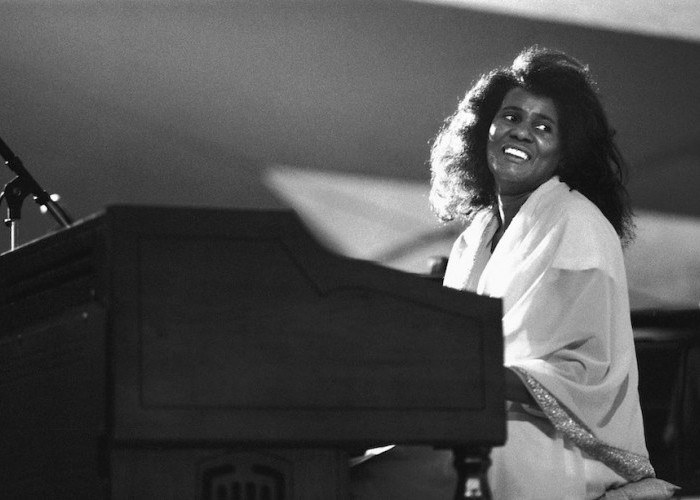 Alice Coltrane enters the Hall of Fame for her groundbreaking contributions to jazz composition and performance, leaving behind an impressive oeuvre of eclectic works and a hallowed legacy.
(Photo: Frans Schellekens)
Alice McLeod Coltrane Turiyasangitananda (1937–2007) spent just four years of her life with tenor saxophonist John Coltrane. These few years proved momentous for them both, however — they toured internationally, turned out several important jazz albums, forged a shared spiritual path and had three children together.
But Alice's work as a musician extended beyond her towering relationship with John, significant as that alliance has been to jazz history. She enters the DownBeat Hall of Fame for her groundbreaking contributions to jazz composition and performance, leaving behind an impressive oeuvre of eclectic works and a hallowed legacy.
Born in 1937, Alice McLeod got her musical start in Detroit, her hometown, by then already one of the most important centers for Black music in the U.S. Following some early classical training, by age 9 she was playing gospel piano and organ in church. This experience prepared her for the jazz clubs that came later, as she followed the lead of her older half-brother, bassist Ernie Farrow — future sideman for bandleaders Terry Gibbs, Yusef Lateef and Stan Getz, among others.
It was in Detroit in the 1950s that Alice likely first heard the inventive music of jazz harpist Dorothy Ashby, five years her senior. Notably, Alice would decide a few years hence (with John's encouragement) to pursue harp as a mode of jazz expression herself.
She continued her jazz education with a move to Paris, where by 1960 she was gigging as the intermission pianist at the Blue Note and with tenor saxophonist Lucky Thompson, with whom she'd worked in Detroit. While in Paris, she had the chance to befriend and learn from trailblazing bebop pianist Bud Powell. And she married for the first time — to singer Kenny (Pancho) Hagood, who had fronted the Dizzy Gillespie Orchestra and recorded with Thelonious Monk and Miles Davis. Alice had her first child, Michelle, with Hagood. (John would later adopt Michelle.)
In 1963, newly divorced and back stateside, Alice met John Coltrane one evening in New York at Birdland, where she was part of vibist Terry Gibbs' rhythm section and Coltrane was leading his already-famous quartet. Within three years of this seemingly fated backstage encounter, Alice and he would be a couple with two children: John Jr. and Ravi. They married in 1965, and she soon began playing with his band. In 1966, she took over the piano spot in the quartet from McCoy Tyner when John's longtime pianist decided to leave the ensemble.
Tyner's decision stemmed largely from a growing division between the two players' respective creative views. Throughout the early 1960s, Trane had been moving away from his earlier fascination with bebop and was starting to experiment with free and modal forms and incorporate elements of world music in his compositions. This musical evolution reflected not just John's musical interests but a deepening spiritual quest that he and Alice shared.
As a part of John's rhythm section from 1966 to '67, Alice recorded multiple albums, several of them live, all of them released via the Impulse! label. However, only one of these, Live At the Village Vanguard Again!, came out during John's life. These recordings document Alice's increasing skill with free improvisation, playing alongside avant-gardists such as saxophonist Pharoah Sanders and drummer Rashied Ali.
The couple's creative time together was short-lived. John died from liver cancer in July 1967, just four months after Alice had given birth to their third son, Oran. Despite the challenges of this loss, within a year she had succeeded in releasing her first solo record, A Monastic Trio, on Impulse! This record marked the debut of the Alice Coltrane Quartet, with Sanders on woodwinds, Jimmy Garrison on bass and Ben Riley on drums. Recorded at the Coltrane home on Long Island, in January 1968, the album established Alice's authority as a bandleader and composer. It also marks her recording debut on the harp, which would soon become one of her principal instruments.
In 1968 Alice also self-released Cosmic Music, which Impulse! picked up soon after. The album captures the first studio session between the newlyweds, recorded in early 1966 during a tour with John's quartet. Her musical output expanded rapidly in the years following his passing. As a composer and bandleader, she released 12 studio albums over the next decade. As these recordings show, more and more fre- quently Alice was playing harp and Eastern musical instruments, and she had started to add strings to her own works.
These musical changes were the outward manifestation of a personal shift that had been in process at least since Alice's first days with John, when they had begun to embrace Eastern spiritual ideas. Further to this pursuit, in 1970, Alice became a follower of Indian guru Swami Satchidananda, and later with Sri Sathya Sai Baba.
In 1972 she moved to Southern California, where in 1975 she founded the Vedantic Center, north of Los Angeles. In acknowledgement of her new metaphysical devotion, Alice changed her name to Turiyasangitananda, or the "Transcendental Lord's Highest Song of Bliss." By 1978, Turiya, as she became known, was fully immersed in ashram life as a spiritual leader, and Alice Coltrane had largely left the jazz world behind.
That same year, Warner Bros. released Transfiguration, the recording of a live concert at UCLA's Schoenberg Hall in Los Angeles that spring. Alice had played organ and piano on the gig — forgoing the harp (not surprising, given the heft of the instrument) — alongside bassist Reggie Workman and drummer Roy Haynes. Later, in the studio, she had overdubbed strings onto some of the cuts, enhancing their medita- tive effect. She would not record a commercial album for another 26 years.
Alice, now Turiya, did continue to write and record music during her quieter life at the ashram, however, distributing her new music to devotees informally on cassettes under the ashram's Avatar label. These worshipful compositions reveal her turn toward simpler melodic and chordal structures — gone were the elastic, furious bebop riffs and free-ranging extrapolations. The first known record under these auspices came with 1982's Turiya Sings; this recording also chronicles her first steps into vocal music, as she sings in Sanskrit and accompanies herself on Wurlitzer organ.
In the late 1970s, Turiya also became an author, publishing several books through the Avatar imprint: Monument Eternal, an autobiographic telling of her spiritual journey; Endless Wisdom, a volume of more than 100 of her inspired verses; Divine Revelations, a compilation of sacred experiences associated with Satya Sai Baba; and Turiya Speaks, a collection of her spiritual teachings.
In 2004, at the behest of sons Ravi and Oran, Turiya returned to the studio for what would be her final commercial jazz release, Translinear Light, again on Impulse!. On this, she played piano and keyboards with an intergenerational ensemble: bassist Haden and drummer Jack DeJohnette, both longstanding collaborators; Ravi and Oran, on tenor and alto, respectively; and drummer Jeff "Tain" Watts and bassist James Genus, on a first-time studio date with the legendary composer. With these musicians she crafted a concise retrospective of her musical life: two gospel hymns, two devotional chants, two of John's tunes and six of her originals. She released the album under the name Alice Coltrane.
When Turiya "left her physical form," as her website says, in January 2007, she ceded her legacy — and John's — to her surviving children Michelle, Ravi and Oran, each a successful musician in their own right. (John Jr. died in a car accident in 1982). This legacy includes an interest in maintaining The John & Alice Coltrane Home, the Long Island house where John wrote A Love Supreme and Alice recorded six of her leader albums. Noting its significance to Black culture, in 2018 the National Trust for Historic Preservation awarded the Home its National Treasure designation. The Home's mission, stated simply, is "to be a force for good" — John's words and Alice's prayer for humanity. DB