Saxophonist Lee Konitz Dies At 92
By DownBeat   I  Apr. 15, 2020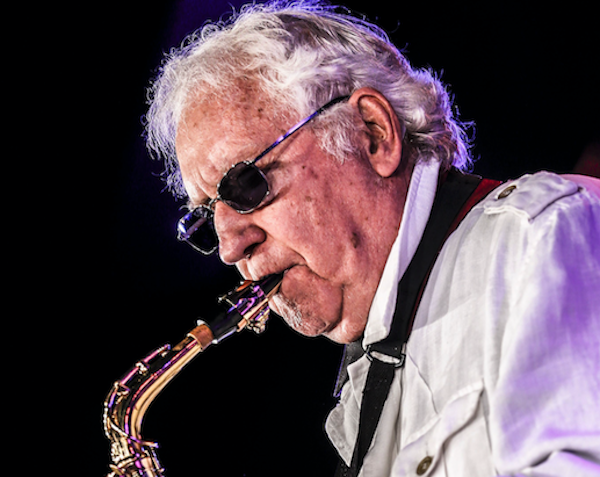 Lee Konitz performs at the Blue Note in New York City on Oct. 9, 2017.
(Photo: Frank Eppler)
Chicago-born alto saxophonist Lee Konitz passed away April 15 at the age of 92. WBGO confirmed his death, adding that "the cause was pneumonia, related to COVID-19."
A recipient of an NEA Jazz Masters fellowship, Konitz was revered for his work alongside Miles Davis on 1949 and 1950 recordings that eventually were compiled into Birth Of The Cool.
Konitz would go on to record dozens of albums during a career that spanned nine decades and worked with everyone from Kenny Burrell and Art Farmer to Ethan Iverson and Dan Tepfer. Recorded around the same time as the sessions with Davis, Subconscious-Lee—an early leader date that also counted pianist Lennie Tristano—exhibited a bop influence, even as the saxophonist helped to define the "cool" sound that would rise to prominence on the West Coast. The album, too, offered a snapshot of Konitz's playfulness and wit. In addition to the title track, there was, of course, "Ice Cream Konitz."
Konitz retained an essential creative spirit in the studio over the years, issuing Old Songs New (Sunnyside) with arranger Ohad Talmor in November 2019.
"The bandleader luxuriates in the lush, slow to medium-tempo interpretations that evoke the mid-century radio orchestras of his youth on numbers like 'Goodbye' and 'I Cover The Waterfront,'" Alex W. Rodríguez wrote about the album in the February 2020 edition of DownBeat. "It feels as if the 92-year-old saxophonist—born not too many years after Charlie Parker—is at work evoking the ghost of Charlie Parker With Strings."
In a 2017 interview with DownBeat, Konitz discussed a concept that he's closely associated with, the contrafact (a musical work based on an earlier composition): "That's a technique I just picked up along the way from whoever invented it, whether it was Bird or whoever. I thought it was a legitimate addition to the vocabulary. I consider it equivalent in some way to adding homemade lyrics to a melody that you could deliver the standard changes on. But then you change them somehow. And that's kind of how I approach that. But I didn't have that particular phrase for the action—contrafact." DB