In Memoriam: McCoy Tyner
By Bill Milkowski   I  Mar. 6, 2020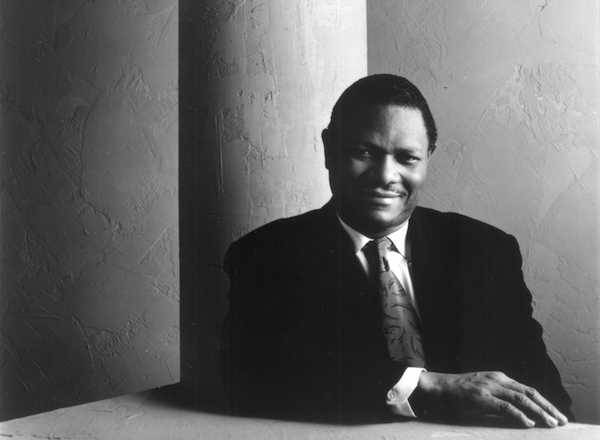 McCoy Tyner (1938–2020)
(Photo: Marc Norberg/Blue Note/DownBeat Archives)
A key member of the classic John Coltrane quartet of the 1960s, as well as a powerful improviser and potent composer in his own right, iconic pianist McCoy Tyner died March 6 at the age of 81, according to a post to his official Facebook page, as well as to social media accounts connected to his nephew. No additional details were given.
A 2002 NEA Jazz Master and 2004 DownBeat Hall of Fame inductee, Tyner's playing style, with its harmonic inventions, predilection for modal fourth voicings and signature emphatic left-hand attack on the low keys made him one of the most instantly identifiable and influential players in jazz.
Born Alfred McCoy Tyner on Dec. 11, 1938, he grew up in the fertile music hotbed of Philadelphia and began studying piano at age 13 at the Granoff School of Music. Inspired by Bud Powell and Thelonious Monk, Tyner began developing quickly, and at age 15 was thrilled when Powell moved into his neighborhood, taking up residence in the apartment of younger brother and fellow bop pianist Richie Powell.
"I was very fortunate to have a gentleman that inspired me right around the corner in my neighborhood," Tyner told Joe Maita, of jerryjazzmusician.com.
By 17, the pianist joined a band led by Philadelphia trumpeter-composer Cal Massey that also included alto saxophonist Clarence "C" Sharpe, bassist Jimmy Garrison and drummer Albert "Tootie" Heath. It was at a matinee performance at the Red Rooster in Philly with Massey's band where Tyner encountered Coltrane. "He was with Miles [in October 1956]," he told this writer in a 2008 interview. "He came home for a sabbatical to spend some time with his mother, Alice, and it was during this period that I met him. But we really got acquainted with each other when he left Miles' band the first time [in April 1957], and returned to Philly to live with his mother. I used to go by there and play with John. She had an upright piano, and we'd play together at his home. And he'd also come by my place and play with me. My piano was in my mother's beauty shop ... . So, we used to have jam sessions at her beauty shop with John and guys from the neighborhood. He was 12 years older than me, so he was like a big brother to me."
Tyner's first recording session came on Dec. 17, 1959—a week after his 21st birthday—for the Curtis Fuller Sextet LP Imagination. Around the same time, he joined the Jazztet, led by Benny Golson and trumpeter Art Farmer. On May 1, 1960, they recorded Meet The Jazztet (Argo), which introduced Golson's "Killer Joe" and included another Golson standard, "Blues March." Tyner's stint with the Jazztet lasted just six months.
By June 1960, he had joined Coltrane's quartet, setting jazz destiny in motion. Together they created a musical synergy on the bandstand with bassist Garrison and drummer Elvin Jones, and recorded such forward-thinking Coltrane albums as Ballads, Crescent and Trane's masterwork, A Love Supreme.
The 2018 Impulse release Both Directions At Once: The Lost Album documented the classic Coltrane quartet in stellar form at a March 6, 1963, session at Rudy Van Gelder Studio in Englewood Cliffs, New Jersey. It was recorded the day before the session that produced John Coltrane And Johnny Hartman.
After leaving Coltrane's quartet in 1965, Tyner released a string of brilliant Blue Note recordings, including 1967's The Real McCoy, 1969's Time For Tyner and Expansions, and 1972's Extensions. Add to that the important Blue Note sessions that Tyner made during the mid-1960s with the likes of Wayne Shorter, Joe Henderson, Grant Green, Lee Morgan, Hank Mobley, Lou Donaldson and Freddie Hubbard, and you've got the résumé of a jazz legend.
Subsequent releases on Milestone in the 1970s, Blue Note in the 1980s, Impulse in the 1990s and Telarc in the 2000s added to Tyner's incredibly rich recording legacy. His late-period recordings as a leader—2008's Quartet, 2009's Guitars and Solo: Live From San Francisco—all were released on the Half Note label.
In Nat Hentoff's liner notes to Tyner's Inception, which was recorded between 1962 and 1963, Coltrane assessed the pianist's extraordinary gifts: "First there is his melodic inventiveness and along with that the clarity of his ideas. He also gets a very personal sound from his instrument. In addition, McCoy has an exceptionally well developed sense of form, both as a soloist and accompanist. Invariably, in our group, he will take a tune and build his own structure for it. He is always looking for the most personal way of expressing himself. And finally, McCoy has taste. He can take anything, no matter how weird, and make it sound beautiful."
A fitting epitaph for a jazz legend. DB