Five Black Jazzworld Figures Detail How Racism Impacts The Industry
By Alexa Peters   I  Jul. 3, 2020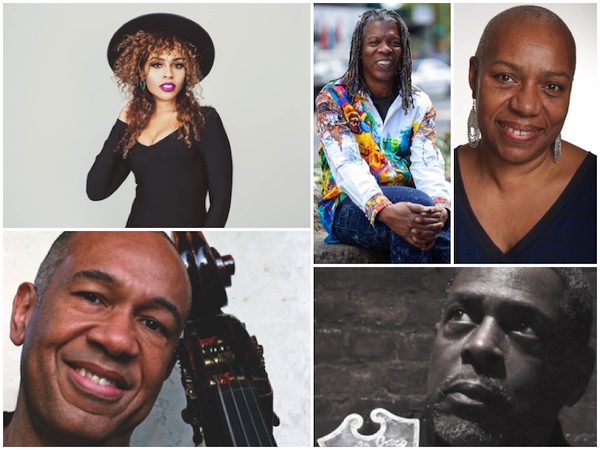 Vocalist Lauren Henderson (clockwise from top-left), broadcaster and journalist Mark Ruffin, manager Gail Boyd, venue-owner Gerry Eastman and bassist John Clayton recount some of their experiences in the jazzworld.
(Photo: Courtesy Of Artists)
Though jazz is a genre shared and revered by people of all backgrounds, there's no equivocating: The music is the sonic embodiment of the Black experience in America. As Louis Armstrong once said, "What we play is life."
While people rise up all over the world in protest of George Floyd's killing and the ubiquity of white supremacy, jazz remains a key expression of Black freedom, pain, beauty and community in a world that rarely offers generosity or justice to Black people. And yet, the realities of the jazz industry—particularly its institutionalization and attempts at commercialization—don't always represent the form's genesis.
DownBeat recently spoke with Black members in the industry—from label owners and DJs to jazz artists and managers—about how race has impacted their careers and what this moment might mean to the future of the jazzworld.
The following has been edited for length and clarity.
Gail Boyd: manager
In 30 years, I have known only a few Black record executives in jazz, only two of whom had final say in signing jazz artists. I know of only two Black jazz publicists. I know of only two Black jazz festival organizers. There are only a few Black jazz journalists. I don't know any Black jazz booking agents. So, the business of jazz is predominantly run by white people—although, as I mentioned, it is a music created by Black people. And in jazz, African Americans do not make the kind of money you see white jazz musicians make.
One of the things I really hope comes about during this time, especially as it relates to Black jazz musicians, is that I would like to start some sort of movement to get more income from streaming for jazz performers. We have for too long accepted the theory that we don't have to get advances anymore, so many artists are actually financing their own recordings, licensing them, and then buying them back after they've licensed them. And then they go make their money on the road and sell CDs. Since there are no Tower Records or retail facilities anymore, we've gotten used to the idea of making our money going out and performing.
When the pandemic hit, it was one big great realization that everyone is stuck with boxes and boxes of CDs and no place to sell them. Meanwhile, the streaming services and the record companies continue to make money during the pandemic because of their relationship with each other, regarding the payment of royalties to record companies—not to the artists. So, I would like to take this opportunity to show the unfairness of that and try to figure out a way to get an increase in royalty payments.
John Clayton: bassist
Race is something that I think every Black person is aware of and has to deal with, but for the most part, we don't focus on it. If you have an imbalance of where your intention is directed, the next thing you know, the music suffers—and we're doing this music because we love it. But I've [experienced racism] off and on throughout my life.
In the 1980s, I started playing in studios in Los Angeles, and I would play these big film dates, written by composers like Jerry Goldsmith and John Williams. It was not unusual for me to be the only Black person in a huge symphony-type orchestra of 50 musicians. And I know that there are musicians of color that would love to be in this environment, and they're qualified—as qualified as anybody else. Those doors just were not open to them.
In jazz, at my age—knock on wood—I'm not running into diversity and inclusion roadblocks, obviously. I did experience them when I was younger, you know, not being allowed into an establishment because I was Black, even though I was going to play music. But [now], I see it more than I'm affected by it. I recognize it as something that maybe [my son] Gerald, or someone of his generation sees more than me.
It's primarily been my experience, that white musicians within jazz have been great allies to people of color in jazz. That's one of the things that jazz musicians are proud of. Even during Jim Crow, part of your day may be dealing with the realities of Jim Crow, but the other part would be like, "What's your name again, do you play? Come on! Let's do something!" It is [a source of] kinship that continues today.
With the George Floyd protests, I like that people's eyes are finally open and they're not ignoring what they see. I want this moment to lead to more equality on a larger array of platforms and situations. So, for musicians of color, I want them to be the managers of venues, for instance. I want them to head up record labels—we all have to start our own labels if we want to be involved in a label. And how about hiring Blacks and other people of color to be in those positions? Especially because—hello—it's a music that we created. Now is the time for all of us to come together to make sure that jazz is a broader world of opportunity.
Gerry Eastman: owner of Williamsburg Music Center
I'm [one of] the only Black-owned businesses in all of Williamsburg, which is almost criminal, and we're an arts organization, and we didn't qualify for any government assistance. So, we're just sitting here. Before the pandemic, we were really trying to address the problem of—in the jazzworld, there are so many schools offering courses in jazz studies, that there's a flood of people that consider themselves jazz musicians. But they probably have somebody paying their bills, so they're willing to play for free. You see a lot of people playing music that came out of the '40s, '50s, '60s, who are [playing] what they learned in college, and you don't hear a lot of original music. The jazz scene in New York has shifted.
This changes the music, because it turns into more revisionist. And most of the original kind of what I would call "white jazz" tends to be more smooth jazz or kind of funk-based jazz, just more pop-y. Either it sounds like 1968 or 1945 or it sounds like covers of Michael Jackson tunes on alto saxophones. It's not people in the tradition of what I call "The Trifecta": John Coltrane, Duke Ellington and Miles Davis. It's in some other realm.
I advertise my business as Black-owned and I try to promote as many Black artists as possible. We don't discourage anybody from playing here, but we do try to make sure we have a lot of artists of color. When you go to the major jazz venues in New York, most of the time it's not people of color playing there.
Lauren Henderson: vocalist and owner of Brontosaurus Records
One thing I've noticed in the music industry in general that makes it very unfortunate and creates a huge divide amongst us is that there tends to be a token presentation of [Black people].
As a vocalist, I noticed in the earlier stages of my career that at times it was almost like being cast: "We want a Black woman to sing at this event, to tour, and so on." Is my voice even a factor? I have my own presentation. Just because we're all Black women doesn't mean we all present songs and music in the same way. But I can't tell you how many times growing up—and definitely early on in New York— people would say, "Why aren't you belting?" And my approach, as you know, is not that. I find this ignorance unfortunate. Would you go up to Diana Krall and tell her to start belting? I don't think so. Or would you go up to Norah Jones and say something like that? Why is that acceptable to say to me? Perhaps inclinations, prejudice and racism. I have to call that out. These experiences have shaped how I approach running my label. I'm never going to say, "OK, I already have a Black bassist, so I don't need another one."
I often heard about pay inequities and experienced them myself. With my label, I'm very strict about not taking advantage of people or having them work for free, which plays a major role in systemic racism. Many POC in jazz have to deal with fighting for proper compensation for their work. Some think, "Oh, she's just starting, she's a woman of color, maybe I can have her do this thing for exposure and help her out," or what have you. It's hard to say at times, especially now with the pandemic on top of everything else, but we deserve to be paid for our work. Period.
Mark Ruffin: program director for Sirius XM's Real Jazz channel, journalist
I've had a great career. My 40th anniversary [in jazz radio] is coming up, in fact. So, I can't complain, because I've done 40 years in jazz. Do I think I would be further without racism? You're damn skippy.
I can give you examples. The most clear example is the fact—when smooth jazz happened, I was in at the beginning of that. I worked at a smooth-jazz station from 1988 to 1996, and I spent half of my time trying to get out of there. When smooth jazz happened, suddenly corporations were interested. Corporations came in and started hiring white guys from progressive-rock stations who didn't know anything about jazz. And those guys—most of them, 95, 96, 97 percent of them—were afraid of any Black man who had any knowledge about jazz. And that's why in smooth jazz, white women and white men and Black women proliferated. There were only two guys in smooth jazz at the beginning for many years, and that had to do with insecurities.
At the station I worked at, WNUA in Chicago, I was passed over [for music director] by a couple people who had a tenth of the knowledge of the music and radio procedure that I did. But I had to buck up, I had to keep going. I realized I was at a very prestigious place and my situation was different than a lot of folks in that I had two careers going in jazz simultaneously—as a writer, journalist and editor.
I was part of a Village Voice article on why there weren't any Black music editors at daily papers. What's funny, coming up, I realized these [white jazz] writers and editors, some of whom I admire, they had to learn what they were talking about. ... I studied it while I was living it, whereas most of them study it afterwards. Now, it don't matter, there are no jazz journalists at newspapers, Black, white, pink or yellow. But I used to have problems with that. Reading reviews where I was at the show, and I'm like, "What is this guy talking about?" DB