Jimmy Heath, Keeper Of The Continuum
By Dan Ouellette   I  Aug. 12, 2020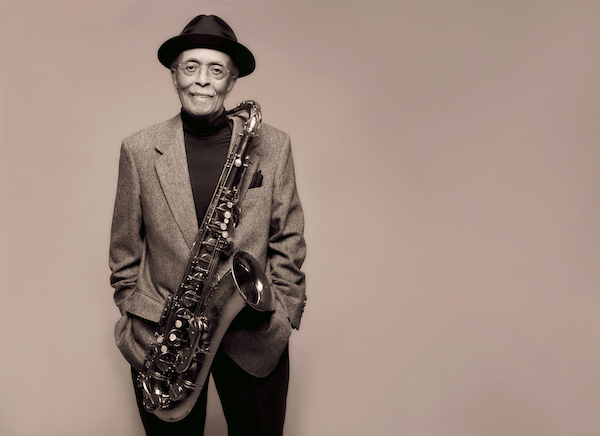 Jimmy Heath, who was a 2003 NEA Jazz Masters fellowship recipient, is now a member of the DownBeat Hall of Fame.
(Photo: Carol Friedman)
Jimmy Heath outlived most of his towering contemporaries during a career that saw the spirited saxophonist serve as a big-band specialist, a prolific composer, an astute arranger and an avid teacher who championed young musicians.
Heath, who died Jan. 19 at the age of 93, now enters the DownBeat Hall of Fame, preceded by many titans with whom he shared the bandstand, including John Coltrane, Miles Davis, Benny Golson and Freddie Hubbard.
In a 2014 interview with DownBeat, Heath embraced the word "continuum" as the operative word of his artistic life. In the liner notes of his latest album at the time, Togetherness, a big-band affair recorded at the Blue Note in New York, he used the descriptor twice—once in tribute to his mentor Dizzy Gillespie and former colleagues Betty Carter and Art Blakey, and again in reference to the young talent he assembled as his touring team. "The continuum is still here," Heath said while hanging out at his Corona, Queens, office. "I'm one of the survivors, along with four or five of the others. Everyone is leaving. But we're lucky to keep the continuum going."
Heath kept more than 3,000 digital photos that traced his career on a nearby computer. He was visibly elated as he enlarged a late-'40s shot depicting him with Gillespie, followed by another from 1949 with Diz, Coltrane and vibraphonist Milt Jackson in the trumpeter's big band. And then one from a 1979 concert in Havana, where he shared the stage with saxophonists Stan Getz and Dexter Gordon. He also viewed a photo from the '40s when he and his band members, including Coltrane, were playing at the O.V. Cotter Auditorium in Philadelphia (admission fee: 75 cents). Plus, there were recent shots of two saxophonist/educators he had mentored: Antonio Hart (one of his former students) and Sharel Cassity (a member of his big band).
At the time of that interview, Heath was prepping for an album with vocalist Roberta Gambarini, 2015's Connecting Spirits, on which she sings the Jimmy Heath songbook. "Bring in the voices—that's what I'm concerned about now," he said. "Roberta has written words to some of my songs … and, man, can she sing them. And she scats great, too. These days I think it's better to connect with the masses by words."
For his finale, Heath decided, with the support of producers Carol Friedman and Brian Bacchus, to do something he had never done before: record an album of ballads.
Out July 17 on Verve, the gorgeous Love Letter features Heath on heartfelt tenor and soprano with accompaniment by bassist David Wong and drummer Lewis Nash. Also in the mix are pianist Kenny Barron on four tracks, vibraphonist Monte Croft on five numbers and guitarist Russell Malone on four tunes. Wynton Marsalis guests on the Kenny Dorham song "La Mesha," and Heath spotlights vocalists Cécile McLorin Salvant and Gregory Porter, on one tune apiece—another testament to the leader's commitment to mentoring younger musicians.
The program for Love Letter features four jazz classics (including a tenor-led ride through Gillespie's "Con Alma"), three little-known originals with the leader's arrangements (including "Ballad From Upper Neighbor's Suite," which he recorded on the 1995 album You Or Me) and a version of "Don't Misunderstand" (first sung by O.C. Smith on the soundtrack to the 1972 film Shaft's Big Score!) with Porter emotionally interpreting the lyrics alongside Heath's dazzling tenor work.
The leader's advancing age presented a challenge for the recording sessions, which were done at Sear Sound in New York and 800 East Studios in Atlanta. Heath, who had relocated to Georgia with his wife in order to be closer to family members, supervised some of the sessions remotely via Skype.
At Heath's request, Malone flew in from a tour in India just in time to make the date. Even though Heath wasn't physically alongside the players, Malone said, "His presence was so strongly there with us. We'd talk and he was always so positive. He was a master of this music, had a deep knowledge and advice, but never in a condescending way. He was also flexible. I wanted to change the voicings of a chord on one tune, and he was so happy with what I came up with."
Malone said the entire ensemble was on the same performance wavelength: "We wanted to make sure we were representing Jimmy's vision.
"What really knocked me out was Cécile's soulful voice on the Billie Holiday/Mal Waldron tune 'Left Alone,'" Malone added. "Jimmy's decision to ask her to be on the album was perfect. He was also knocked out by her." DB
This story originally was published in the August 2020 issue of DownBeat. Subscribe here.