Julius Hemphill's Crusade
By Peter Margasak   I  Mar. 5, 2021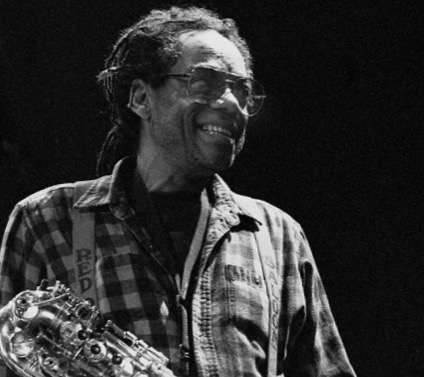 Julius Hemphill rehearsing Long Tongues: A Saxophone Opera in 1990
(Photo: Michael Wilderman/jazzvisionsphotos.com)
Considering the seemingly boundless spring of archival music collections in the marketplace, it's surprising that so few of them provide genuine revelations outside of micro-details about how a particular tune may have developed over time or has been shaped in a studio. Box set fatigue is understandable, but there are exceptions.
Take, for example, a recent seven-CD excavation of holdings in the archive of the brilliant reedist and composer Julius Hemphill, which not only consists exclusively of previously unissued recordings, but also goes a long way in filling out the complex story of this multifaceted artist whose breadth and vision were seriously short-changed by the recording industry.
The Boyé Multi-National Crusade for Harmony (New World) was meticulously assembled by fellow reedist and composer Marty Ehrlich, who worked closely with Hemphill for decades, until the latter's death in 1995 from complications due to diabetes at the age of 57. Hemphill remains one of the most dynamic, original and inventive figures in post-'60s jazz, but much of his modest discography has drifted in and out of print, and his legacy beyond pioneering work in the World Saxophone Quartet, for which he remains known best, is criminally overlooked.
He was born in Fort Worth, Texas, in 1958, and reflected the region's musical diversity in a similar manner to Ornette Coleman, rooted in the blues and sprung from the bebop of Charlie Parker.
In 1966, he moved to St. Louis, falling in with fellow explorers like alto saxophonist Oliver Lake and trumpeter Lester Bowie. Two years later he co-founded the Black Artists Group (B.A.G.), an African-American arts collective à la Chicago's Association for the Advancement of Creative Musicians, but one invested in multi-disciplinary collaboration.
Hemphill's first-ever record was a duo album with the poet K. Curtis Lyle, The Collected Poem—For Blind Lemon Jefferson, and he worked extensively with playwright Malinké Elliott. Not long after releasing his classic 1972 album Dogon A.D. on his own Mbari imprint, he moved to New York.
But Ehlrich, who grew up in St. Louis and was quickly taken with B.A.G.'s work, took note, as he began playing in the Human Arts Ensemble. He finally met Hemphill in St. Louis in 1974, when the saxophonist was passing through town, but his connection was cemented when he himself moved to New York in 1978 after graduating from the New England Conservatory of Music.
He spent days informally talking and playing at the Brooklyn loft apartment of Tim Berne, where Ehrlich lived during his first year in the city, and where Hemphill spent a great deal of time. In 1980, he would join Hemphill's Big Band, and after the World Saxophone Quartet disbanded, he became a charter member of the Julius Hemphill Sextet, an all-reed ensemble that extended his work with WSQ.
Ehrlich continued to lead the sextet for a decade after Hemphill's death. Given their professional and personal closeness, in 2017, pianist Ursula Oppens, the saxophonist's partner during his final years, engaged Erlich to create an archive for Hemphill, which found a home at the Fales Library at New York University.
The project would consume Ehrlich for the next few years, engaging in detective work matching scores or fragments of scores with dozens of untitled performances sourced from a variety of cassette and reel-to-reel tapes, about 130 in all. He was able to identify and contextualize almost all of the 25 previously unpublished compositions included in the new set. He's currently creating professional editions of those pieces, "with scores and parts that connect for performance and study, so this music is played long past my time," he explained during a recent Zoom call from his New York City home.
As he completed his work at the archive, the Fales librarian mentioned it to Paul Tai of New World Records, which had worked with both Hemphill and Ehrlich. In early 2020, Ehrlich began work on the release, spending most of the year curating the selections and writing the detailed annotations and Hemphill history that fills the 38-page booklet.
Hemphill was a sublime arranger, with a gift for producing extravagant harmonies from reed instruments—a practice he spent his life pursuing, be it the overdubbed solos on Blue Boyé or the orchestral depth he extracted from his saxophone sextet. That group got its start playing his evening-length work Long Tongues: A Saxophone Opera. Later, the group, in a years-long collaboration with dance choreographer Bill T. Jones, created the music for Last Supper at Uncle Tom's Cabin/The Promised Land.
Between the WSQ and the sextet, much of Hemphill's work in this format has been released, but what The Boyé Multi-National Crusade for Harmony invaluably presents his astonishing small-group work. There's a full disc featuring unpublished compositions played by him and Abdul Wadud—the wildly inventive, technically profound cellist who worked with Hemphill in different projects for more than two decades. Wadud also turns up on most of the performances by a quartet playing chorale-like pieces, featuring trumpeter Olu Dara and drummer Warren Smith, and an elastic trio with drummer Michael Carvin.
There is a full disc devoted to concert music Hemphill wrote for others, including a solo piano work played by Oppens, and Mingus Gold, a three-movement suite featuring Charles Mingus themes radically reimagined for string quartet. Another disc features solo work and further performances with K. Curtis Lyle, while another disc features the Janus Company, an athletic open-ended trio with longtime Hemphill partner Baikida Carroll on trumpet and a young Alex Cline on drums.
There's a terrific quintet performance from 1978, in Los Angeles, that includes the clarinetist John Carter, who taught Hemphill in Fort Worth. A 1979 live date with Hemphill and Carroll joined by bassist Dave Holland and drummer Jack DeJohnette lives up to its promise, but in some ways it's the anomaly of the set. Hemphill maintained a tight-knit community, and most of the musicians featured in the set were close collaborators for years.
"I did this work out of love," Ehrlich said of the project. "I did it out of passion. In Black music, in Africological methodology, in the jazz tradition, whatever current thing or one wants to call it, we fight any hierarchy between notation and in-the-moment creativity. We must honor that Julius Hemphill is a protean composer of notated music." DB