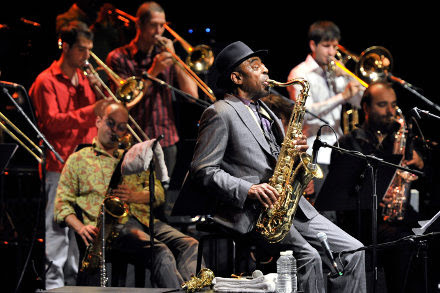 https://gallery.mailchimp.com/3186fe64133adb244b1010be2/images/Archie_Shepp_Attica_Blues_Orchestra.jpg" />
Tracklisting:
1. Attica Blues
2. Arms
3. Blues for Brother G. Jackson
4. Come Sunday
5. The Cry Of My People
6. Quiet Dawn
7. Déjà Vu
8. Steam
9. Goodbye Sweet Pop's
10. Ballad for a Child 
11. Mama too tight 

(Bonus Tracks on the digital version):
12. The Stars are in your eyes 
13. Ujaama 

Personnel:
Archie Shepp (Saxophones tenor, soprano, voice)
Amina Claudine Myers , Marion Rampal, Cécile McLorin Salvant (Voice)
Amina Claudine Myers, Tom Mc Clung(Piano)
Famoudou Don Moye (Drums, congas)
Reggie Washington (Double bass et Bass) Pierre Durand (Guitar)
Stéphane Belmondo, Izidor Leitinger, Christophe Leloil, Olivier Miconi (Trumpets) 
Sébastien Llado, Simon Sieger, Romain Morello, Michaël Ballue (Trombones) 
Raphaël Imbert, Olivier Chaussade (Alto Saxophones)  François Théberge, Virgile Lefebvre (Tenor saxophones)
Jean-Philippe Scali (Baryton saxophone)
Manon Tenoudji, Steve Duong (Violins)  Antoine Carlier (Violin alto) Louise Rosbach (Cello)
Jimmy Owens  (Conductor)
Except The Cry Of My People: Trumpet : Ambrose Akinmusire, Bass : Darryl Hall, Conductor : Jean-Claude André
The album was recorded on Sept 9 2012 at the Jazz à La Villette Festival, June 14 2013 at CNCDC de Châteauvallon and on June17 2013 at Les Nuits de Fourvière Festival
On September 9, 1971, a riot broke out in Attica Prison, New York State, and quickly spread. For five days, about a thousand prisoners controlled one of four yards encircled by the prison buildings, where they held thirty-three hostages, guards and civilian employees. On September 13, New York State Governor Nelson Rockefeller ordered the prison to be retaken by force. Thirty-nine people were left dead: twenty-nine prisoners and ten hostages were all killed by the troopers' bullets. At first, the administration tried to blame the guards' deaths on the rioters, before being forced to admit culpability.
In January 1972, Archie Shepp recorded the album Attica Blues in tribute to this rebellion.
 
After the original and the repeat performances in 1979 of his Attica Blues Orchestra at the Palais des Glaces, in 2012 Archie Shepp revived the fantastic ensemble, together with a brilliant and dynamic collective of performers. It is an orchestra that transcends styles and epochs. The band is international in scope, combining the extraordinary abilities of great American artists such as: Amina Claudine Myers, Jimmy Owens, Famoudou Don Moye, Ambrose Akinmusire, Reggie Washington, Tom McClung with an array of some of the brightest stars on the European horizon: Stéphane Belmondo, François Théberge, Christophe Leloil, Izidor Leitinger, Raphaël Imbert, Cécile McLorin-Salvant, a Franco-American vocalist currently studying music at the New School in New York. She also studied in the jazz class of the Aix-en-Provence conservatory and is winner of the Thelonious Monk Institute of Jazz Competition. Finally the remarkable and talented soprano, Marion Rampal of Marseille, France, who has performed extensively in Europe and recently in the U.S. The String Quartet from Dijon is a specially added feature which adds both colour and intensity to this joyful sound; a 26-piece orchestra which emits a unique generational and cultural ambiance.
 
Above all there is the cry of the blues which has lost nothing of its purpose and intensity in 2013. The blues is analogous to the album's title, a beacon, and a metaphor, not the blues as a set style or particular aesthetic, but as a collective state of mind, a link that unites all the musicians. For example: Blues for Brother George Jackson seems to recall a devastating, dance groove, but Shepp insists that the music has both a social and aesthetic meaning. Written to preserve the memory of the Attica rebellion, it still strikes a strong chord in contemporary ears. 2013 is the year of Nelson Mandela's 95th birthday, of Barack Obama's second term, the old anxieties that we thought to be buried, and the inexhaustible reflexes of exclusion, suspicion, racism, and ostracism are still present, and grow more and more embedded in our daily lives. We experienceAttica Blues as if it had been written today. There is a certain tristesse which continues to gnaw at us, a sense of shared suffering that will long remain in our collective memory.
 
ARCHIE SHEPP ATTICA BLUES ORCHESTRA – LIVE -
European Release Date – November 25 2013
 US Street Date January 14, 2014
on Archieball (independent label created by Archie Shepp in 2004),
distributed by Harmonia Mundi.