Wadada Leo Smith — Across the Threshold
By Dave Cantor   I  May. 13, 2021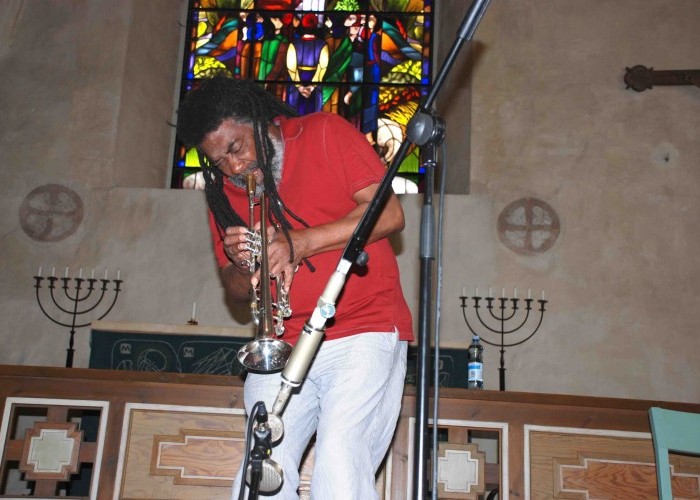 Wadada Leo Smith performing at St. Mary's Church in Pohja, Finland.
(Photo: Petri Haussila)
During decades of recording and work alongside a cast of co-conspirators that could serve as a summation of jazz's avant-garde wing, trumpeter Wadada Leo Smith has mapped his inspiration. And he continues to do so.
At least three sets featuring or conceived of by the Pulitzer Prize finalist are set for release this year. Sun Beans Of Shimmering Light (Astral Spirits), live recordings where Smith joined reedist Douglas R. Ewart and drummer Mike Reed in 2014 and '15, is a modern-day Association for the Advancement of Creative Musicians convergence that features interactive and in-the-moment explorations by generations of the Chicago-born collective.
But it's a pair of three-disc sets on the TUM imprint that Smith sees as burnishing his legacy, one that's recently been supported by his selection as a 2021 United States Artists Fellow. The 79-year-old composer, who retired from the faculty of California Institute of the Arts in 2013, still seems to have an almost endless stream of inspiration to prod him along.
Trumpet, featuring more than two hours of music from 2016 solo performances at a historic religious structure in Finland, finds Smith ruminating on Akira Kurosawa's film Rashomon, saxophonist Albert Ayler, Sufism and members of his AACM cohort. His tinny tone cuts through the church's stillness to deliver a wending and emotive sermon on the excavation of ideas from our collective past, as well as the creative impulse.
More in line with Sun Beans, the triptych Sacred Ceremonies filigrees a portrait of the trumpeter alongside bassist Bill Laswell and the late drummer Milford Graves in duos with each player and also in a trio setting. Recorded in 2015 and '16, the music reflects not just the historical figures referenced in the song titles, but also a well-honed compositional aesthetic that Smith said allows for impromptu moments of exploration within a structural framework.
The trumpeter doesn't use the word "improvisation" at this point in his career, citing a variety of reasons, but recalled one poignant story to illustrate the difference between thoughtful creative command and self-indulgence.
"In Japan, I was doing an event with a poet and a drummer," Smith said over Zoom from his home in New Haven, Connecticut, in late February. "And after I finished, I sat down on the floor and put my trumpet on my lap. And guess how long I was sitting there. Another hour."
Listening to Smith and Graves assess history on "Baby Dodds In Congo Square," it's difficult to keep track of the drummer's polyrhythms, as the trumpeter narrates the importance of both the titular place and the musician. It's the sound of selflessness. When in duets with Laswell, the information being transmitted about song dedicatees Tony Williams or Donald Ayler is no less potent. And when Smith, Laswell and Graves perform together on Sacred Ceremonies' final disc, a sort of philosophical fervor electrifies the sonic discussions of myth, justice and healing energies.
The composer and bandleader recently spoke to DownBeat about these upcoming projects, the ritualistic nature of performance and why he references so many historical moments and people in his work.
The conversation has been edited for length and clarity.
Is there a significance to your recording Trumpet at St. Mary's Church in Pohja, Finland?
I met the pastor there, and I met some of the members. The town is where [Petri Haussila], who owns TUM Records, lives. And so, in that town is the 16th-century church, and we had been talking about it for the last several years — maybe four — that it would be a nice place to record.
One summer, I went up to Pohja, to [Petri's] home. I went there just to record that music. We spent four days recording. It was really a very beautiful time. We would get up in the morning, have breakfast, go to the church, record. Have a slight lunch, record and go home — have a sauna. Then, I would go to my room to work on whatever I'm going to do the next day.
It's almost like not being in an ordinary community — definitely a way to maintain my focus and my creativity.
You open that set with a song dedicated to saxophonist Albert Ayler, and in the liner notes you talk about the ceremonial nature of his playing. Is there a connection between your perception of his work and performing at St. Mary's?
He was a spiritual person. And he looked to use and elevate his music, so that it would offer an environment for people to either have a spiritual experience or some kind of reflective or meditative awareness. We would call an artist like him a spiritual artist. He and his brother Don, those guys were brought up in a very unique family. … They believed in the Holy Ghost and the touching of the Spirit. And those things, if you've ever been in that kind of environment, around those kinds of people, they are real. They are not artificial. It's not something that people pretend.
They go into these states, and these states have been recorded all throughout history, by all kinds of religions — from Judaism to Islam to Christianity to Buddhism, all across the spectrum. So, what they were doing and what he was doing — I use the word ritualistic, because I'm referring to the fact that it was not ordinary. The stage, for him, was not an ordinary space. It was a really profound space, where he conducted rituals. It's this idea of spiritual transformation.
The CREATE Festival didn't happen in 2020. But in your talking about the stage being a locus of spirituality, it makes me wonder if you intended the festival to be a kind of ceremony.
CREATE was that for me. But any stage that I walk on, I don't just walk on stage. When my ensemble and I prepare to perform, normally I separate myself from them — not for any kind of strange ego thing. I separate from them because I have to maintain focus. I have to prepare myself for what I'm going to do. And often when there's more than one person sitting around in a room — no matter what they're going to do next — it becomes a social environment. And people are laughing and talking, and telling jokes and remembering when they last saw each other. I don't want to be involved with that.
What I want to do is slip away, be somewhere else. Keep my reflection. Keep my mood. And then when I come on stage, I'm going to be ready. And I don't just walk on stage. I step on stage in a specific way; I step on the stage with the right foot.
Why's that?
Because that's the lead. I'm right-handed, and it makes me realize that I've stepped across this threshold, this other zone. If I just casually walked out there, there's no indication that I've crossed this kind of a threshold. There's no indication of that. But if I specifically mark how I step onto the stage, then it's there.
A lot of your work — including the upcoming sets on TUM, as well as previous recordings like Ten Freedom Summers — seems to be about assessing your relationship to various people, or it's a reflection on different moments in history. Amina Claudine Myers and Reggie Workman are among the people you reference on the upcoming albums. Why are these kinds of appraisals important to your writing?
What I try to do in all of my compositions and performances, I try to render a psychological profile of what it is I'm looking at. The psychological reality is something that can be accessed through art. But because of symbolism and all kinds of philosophical and mystical ideas, these studies can be connected. So, when I look at any of the artists whose names I use, I'm after a profile of them — psychologically — or I'm looking to see about something they did. And that's something I want to showcase or put into perspective.
If you read things I say about Reggie, I looked at his profile based off of how he plays the bass. And how, by playing with him and recording with him a couple of times, I discovered a lot of people that I knew were influenced by him — and I didn't even know it.
Is music the culmination of education, philosophy and religion? Is it the most powerful delivery system of ideas?
Music models democratic principles in … the way in which the composer introduces material. It's almost like a real congressional deliberation that music is brought in. It has what that composer wants in it, but it's only a model of what he needs, because it's creative music.
On stage, the most powerful line — not the loudest, not the most erratic — will cause the ensemble to move in another kind of way. And that's non-argumentative. It's something that performance has that a lot of other [art forms] don't have. That's its power. It doesn't change things, but it allows us the opportunity to make these changes. It allows us a moment to reflect and become truly engaged, so that we can actually change things ourselves.
Sacred Ceremonies was mentioned in a 2017 DownBeat interview. How long have you actually been planning the album?
I have enough music in my house and on other people's shelves for two pieces to come out for the next 10 years. So, that project with Milford and Bill, we planned it for a long time and then finally, when it happened, it gets [put] in line with whatever else is [ready to be released]. Now, it's coming out, but really my 12 string quartets record should be coming out. What I'm saying is, there's a lot of material.
How do you decide which projects to prioritize, if there's that much music?
When I'm thinking of a project, I think of people. And that motivates me to say, "Let's do this next, let's do that next." With Bill and Milford, I pulled a couple pieces from 40 years ago. "Ascending The Sacred Waterfall" was written like 20 or 30 years ago. I went back and reshaped it, took away a little bit and added a little bit, because it's 20 years down the road.
I'm the same person, but I have a little bit more wisdom. Which means that if there's a note that doesn't touch me completely, I'll etch it out and find the one that does, and put that in. I got a lot of Wite-Out in the house, because I don't write on the computer, I write on [paper].
It's an unfortunate coincidence that Milford recently passed away, and your collaboration with him only now is coming out. Were you two frequently in touch?
We spoke from time to time. I'm basically a loner. I don't really speak to a lot of people. I'm a worker. I work alone. I live alone, you know?
Milford and I spoke, I wouldn't say every month, but we spoke often enough to be in touch. And whenever we're working on a project, we had really good, extensive conversations. He was a magnificent, creative guy. Philosophical and spiritual.
I imagine a lot of your conversations focused on stuff like that.
We talked mostly about rhythms. One of the things he told me after we did the duet record was that I was the first trumpet player to get him to slow down. I didn't ask him what he meant; I wish I had. I don't know if he meant in terms of how many rhythms he'd throw out or how fast the rhythms were or the timing of them. I don't know; I should have asked. For some reason I didn't. I just said, "Cool." DB