Peace Jazzburghers,
Wanted to inform you all about the TITLE TOWN Soul & Funk Party 2 YEAR Anniversary. Back in October of 2009 my partner Gordy G and I merged our previous parties (The Big Throw Back and Vipers Soul Club) to form the Voltron-esque TITLE TOWN party. Ever since then we've been packing the Shadow Lounge out the last Saturday of each month with anywhere from 250 - 400 attendees for anything goes, all-45 nights of hot sweaty dance parties. This month we celebrate our 2 year anniversary on Saturday, November 26th.

We finally got around to recording the TITLE TOWN Soul & Funk 45 Mix Vol. 2. Free limited edition CD copies will be given to the first 100 people through the door on a first come first serve basis.

FYI - The final TITLE TOWN of the year will be on New Years Eve. We're sorting out the details now and promo will be ready to roll circa December 1st.
Thanks for reading, J. Malls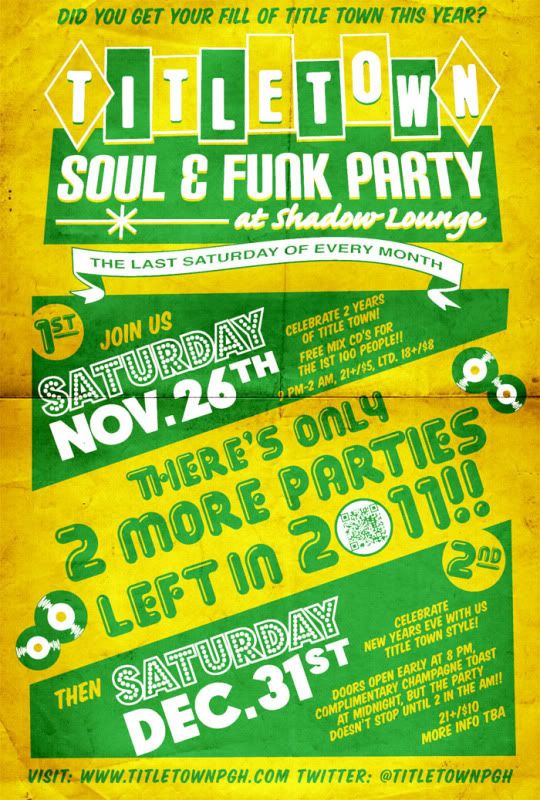 PS - Here goes the link for the first TITLE TOWN mix: http://www.mediafire.com/?v0te6z14hbt3nga

Also visit us online/follow us at:
www.facebook.com/titletownpgh
http://twitter.com/titletownpgh